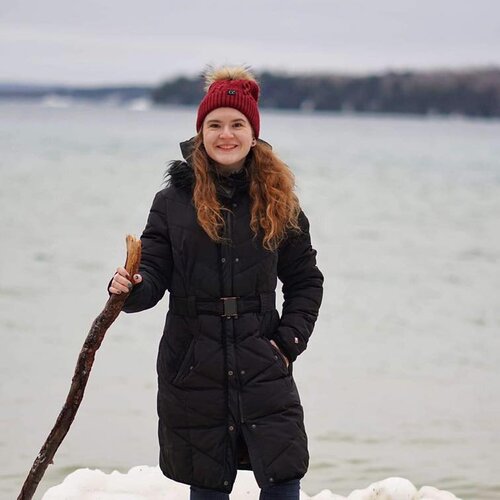 Biography
LeiAnna Hamel is a Ph.D. Candidate in the Department of Slavic Languages and Literatures (minor in Jewish Culture and Society) at the University of Illinois, Urbana-Champaign. She received her B.A. in Russian and Religious Studies from the Barrett Honors College at Arizona State University in 2011, and her M.A. from the University of Illinois, Urbana-Champaign in 2014. She has worked at the academic journal Slavic Review as an Editorial Assistant (2013-2014), and is currently the Editorial Associate at the online journal In geveb: A Journal of Yiddish Studies. She speaks English (native), Russian (fluent), Yiddish (fluent), Bosnian (intermediate advanced), and Hebrew (intermediate). When she's not working, LeiAnna enjoys dancing tango and going out with friends.
Research Interests
19th and 20th Century Russian Literature
Yiddish Literature
Gender and Sexuality
Science and Literature
Research Description
My dissertation, "Undisciplined Bodies: Deviant Female Sexuality in Russian and Yiddish Literatures, 1877-1929," analyzes the depiction of female bodies and eroticism in Russian and Yiddish literatures alongside medical, anthropological, and journalistic examinations of female sexuality. My project poses the question: How did the sexualized (Jewish) female body became the locus for anxieties about modernization in Russian and Yiddish texts from the late nineteenth and early twentieth centuries?
Education
Ph.D. Candidate in Slavic Languages and Literatures, minor in Jewish Culture and Society, University of Illinois, Urbana-Champaign (in progress)
M.A. in Slavic Languages and Literatures, University of Illinois, Urbana-Champaign (2014)
B.A. in Russian and Religious Studies, summa cum laude, Barrett Honors College, Arizona State University (2011)
Grants
ASEEES Summer Dissertation Writing Grant (2020)
UIUC Humanities Research Institute Graduate Fellowship (2021-2022)
Tobor Family Fund Dissertation Fellowship (2020-2021)
Karasik Scholarship for Study Abroad (2020)
Gendell Family and Shiner Family Fund Dissertation Fellowship (2018-2019)
FLAS Fellowship for Yiddish (2017, 2018)
FLAS Fellowship for Russian (2016)
School of Languages, Cultures, and Literatures Fellowship (2012-2013)
Awards and Honors
Yiddish Pedagogy Fellow, Yiddish Book Center (2019-2020)
Slavic Department Outstanding Teacher Award (2017)
Courses Taught
Yiddish 101-102 (2019-2020)
Russian 102 (2019)
Russian 201 (2017)
Russian 202 (2016, 2018)
Additional Campus Affiliations