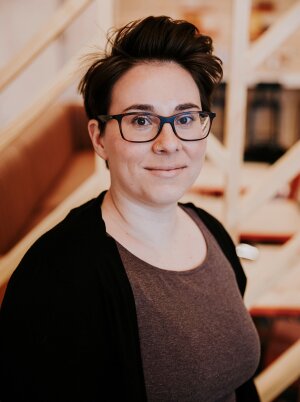 Contact Information
Slavic Languages and Literature
3080 FLB
MC-170
Biography
Nadia Hoppe is a PhD candidate in the Department of Slavic Languages and Literatures at the University of Illinois Urbana-Champaign. Her dissertation traces the cultural history of the toilet in the Soviet Union. 
Her research interests include Soviet and Post-Soviet literature, art, and film as well as gender and critical theory.
She speaks Russian and Czech. 
Research Interests
Soviet and post-Soviet Russian and Czech literature
Feminist theory
Queer theory
Film
Toilets
Everyday life
Research Description
Some of her conference and forum presentations are as follows:
• AATSEEL Annual Conference [February 7-10, 2019](New Orleans, LA)- "The Soviet Readymade: Everyday Life in the SZ Group's 'Self Defense Against Things,'" Moscow Conceptualism Stream- "Socialist Realism in Circles: The Toilet in Venedikt Erofeev's Moskva-Petushki"
• ASEEES Annual Convention [November 9-12, 2017](Chicago, IL)"Porcelain Bowls of Triumphant Socialism": The Toilet as a Space of Transition in Viktor Pelevin's "Vera Pavlovna's Ninth Dream"
• Graduate Student Conference in Slavic Studies [April 17, 2017]University of Illinois Urbana-Champaign (Champaign, IL)"Lost in a Queer Time and Place: The Paradox of Late-Socialism in Gorod Zero"
• Slavic Forum [April 15-16, 2016]University of Illinois Urbana-Champaign (Champaign, IL)"Queering the Boundaries of Toilet: Debating Dichotomies and Gender Anxiety in Milan Kundera's Unbearable Lightness of Being and Georgi Gospodinov's Natural Novel"
• Central Slavic Conference [October 23-25, 2015]Saint Louis University (St. Louis, MO)"He's a Real Man!": Vladimir Putin as Fetish Object"
• Slavic Forum [April 11-12, 2015]University of Chicago (Chicago, IL)"Eternally Erect: Violence, Power and the Phallus in Sorokin's Den' oprichnika"
• Midwest Slavic Conference [March 13-15, 2015]The Ohio State University (Columbus, OH)"Viktor Pelevin and the Triumph of Masculinity: Gender and Power in Sviashchennaia knigaoborothia"
Courses Taught
First-Year Russian
Second-Year Russian
Additional Campus Affiliations